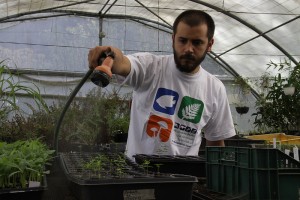 Plants endemic to the remote Pacific island of Socorro (Mexico) are being grown ex-situ by Dr. Juan Martinez-Gómez in preparation for the reintroduction of the Socorro dove. The plants, upon which the Socorro dove depend, have been devastated by sheep that were introduced 150 years ago.
The Socorro dove project involves many conservation partners addressing the many different conservation challenges facing this reintroduction. The Mexican Navy, for example, is providing transportation and helping to retrofit abandoned buildings by turning them into greenhouses and captive breeding facilities.
You can read more about the project and view a photo essay in our case study pages.